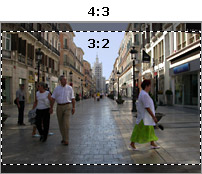 Cropping to standard photo size
Cropping to standard sizes
Most digital cameras produce images that have a 4:3 aspect ratio which is the same as that used by computer monitors. However, most common photo sizes used by printing services, photo albums and photo frames have different aspect ratios and sizes; they are usually close to a 3:2 ratio, for example, 4"x6" (10x15cm). This ratio corresponds to the standard 35mm film shots produced by conventional (analog) photo cameras.
If you submit your digital images to a printing service or print them directly onto standard photographic paper you risk having important parts of the image cut off near the print edges. Because of this, it is advisable to crop digital images to a standard photographic ratio or size yourself before submitting them to a printing service.
Better JPEG allows you to crop JPEG images to the most popular photo ratios and sizes. Moreover, it does not resize or recompress JPEG images during the crop process. This ensures that there is no loss in resolution or further JPEG degradation. The lossless crop feature also removes the need to dramatically increase file size by saving to lossless formats such as Tiff after cropping. The cropped image can remain in JPEG format. This saves storage space and upload time when you use online printing services or e-mail your images.